Club Facility - For Members Only (No Day Passes for Racing or Riding)
Track - Open - CLOSED Saturday May 21 reopening Tuesday May 24th
Trails - Closed - Open Tuesday May 24 for the season


Club News
| | | |
| --- | --- | --- |
| | 2022 MX SERIES | |
MX Round #3 - Monday, May 23, 2022 - Sponsored by NewFab Ltd
Round 3. It feels great to be back in the swing of things with a normal season.  As you've become accustomed to, Sunday at 9:00PM is the cutoff for registration so make sure to register soon. Link Here 

Please remember to register using the EXACT SAME NAME every time so as not to create a new rider with new scores (i.e. Rob/Robert, McFair/Mc Fair). Your attention to detail significantly reduces the amount of work our volunteers need to do.  
Worker Roster: MX3 Worker Roster

Fun Day, Swap Meet and 2021 Season Banquet - Sunday, May 22, 2022 - Sponsored by Egger Truck & Machine Ltd.
Come out on Sunday this long weekend to participate in the Fun Day, put up a table of gently used gear or parts for the Swap Meet, and stay for some awards and casual socializing. The 2021 Season Banquet is going to be a new format this year and will follow some on bike Fun Day activities including the Poker run and more. If you have not purchased a meal... that's ok, come out with your lawn chair and own food if you'd like. All are welcome at the banquet whether you're receiving an award or not. See the flyer below for details!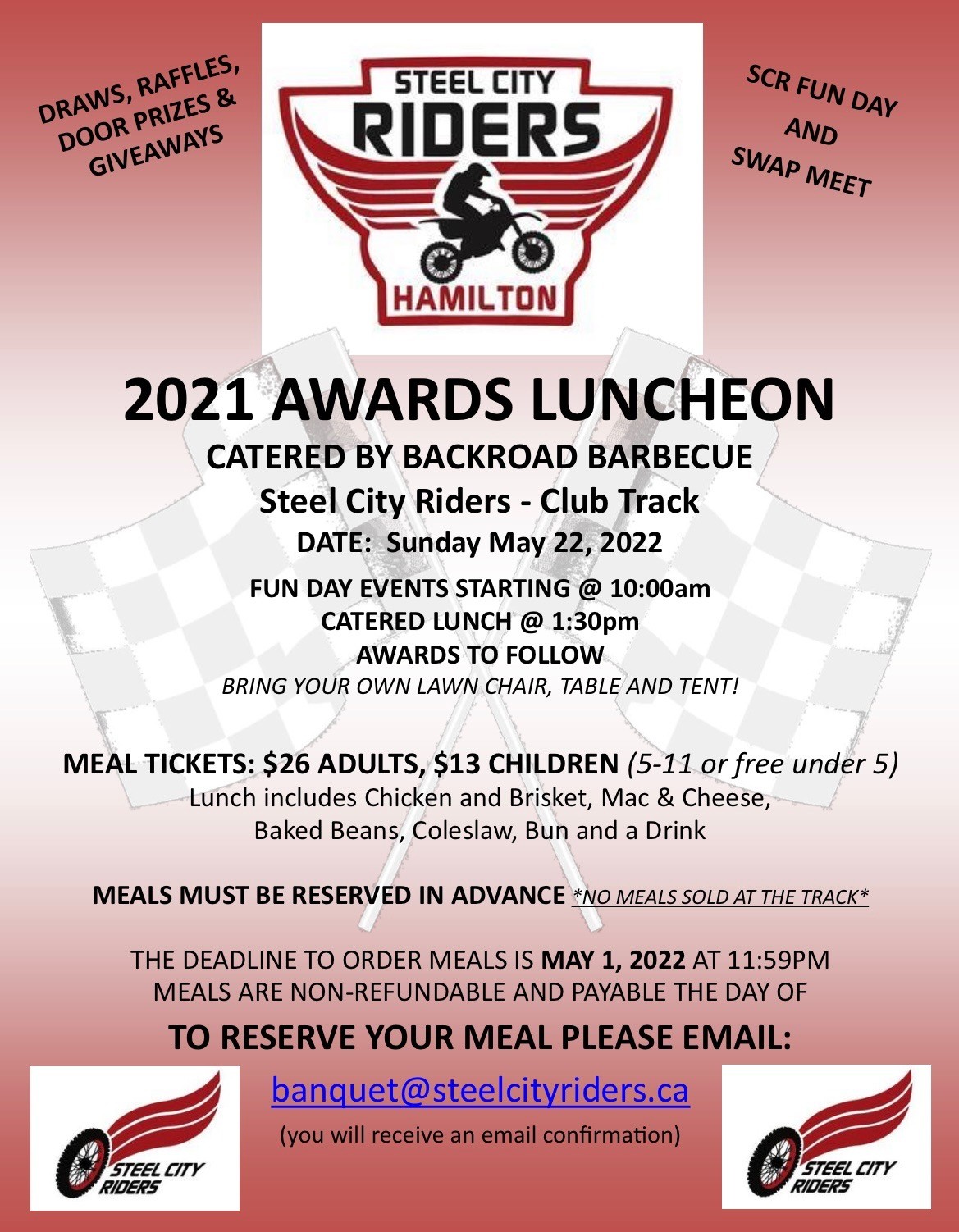 2022 MX School Night
SCR is excited to announce that the MX School will be back in 2022. The club has a number of very experienced and former pro riders who will be out volunteering their time to share tips and tricks on riding. Sessions will be on Tuesday nights beginning June 7th, through to the end of July. NOTE: The club track and/or trails will be reserved exclusively for the school sessions on these dates for as long as they need. We encourage you, whether beginner or experienced rider, to come out and brush up on your riding skills. Shout out to all our instructors!
June 7 - Intro, Safety, Bike Setup, Body Positioning
June 14 - Clutch, Starts, Braking
June 21 - Corners Part 1
June 28 – Corners Part 2
July 5 – Woods Part 1
July 12 – Woods Part 2
July 19 – Hills and Misc.
July 30 – Jumps
WORK DAY REMINDERS
It's always a good idea to clarify Work Day obligations and responsibilities each year, both for new and existing members. Your Work Day is one of the most important membership obligations with Steel City Riders.
As a part of your SCR membership, it is required that every individual member 8 years of age or older as of January 1st of the seasons calendar year must have a mandatory Work Day completed during the season.
Not only does this one-day obligation allow us to keep our membership fees affordable, but it also allows members to be an active part of this organization. Get out there to see how the club operates, have some fun and enjoy some racing!
A Work Day typically consists of flagging at a race. Flaggers must be 14 years of age or older. Parents (or self-arranged fill in) of minors, too young to flag, will have to complete the Work Day for their children. If you have a family of 4 members, 4 Work Days are required. During online registration, you are required to select a day from what's available. These are first come first serve. A Work Day is an obligation of membership. If you can't commit to a Work Day, SCR may not be the club for you. If you register and the only Work Days available are away races, that means that others have registered before you and those Work Days are no longer available. All first-year members will be required to complete their Work Day at a non-home track event.
It is the sole responsibility of each member to complete their selected Work Day. If you are unable to do so, it is your responsibility to make sure that someone is there to cover the day on your behalf. Anyone 14 years of age or older, who has done their flagger training through the online video tutorial can fill in. It is your responsibility to ensure your fill in signs in on your behalf when they arrive for worker registration.
If you find you are unable to complete your selected Work Day, it is your responsibility to find a suitable replacement. If you wish to email us the name of who we can expect in your place, that courtesy is appreciated. Please DO NOT email to advise you won't be attending and expect us to find you a replacement. Anyone who fails to show for their Work Day or does not arrange a fill in will have their membership privileges immediately suspended, with no option to renew for future seasons.
Our priority is safety. We depend on each of our members to fulfill their required Work Day on the date they selected during their membership application. Our events are run solely by volunteers and without the required numbers we expect to attend each round, it makes it very difficult to safely run an event as scheduled. This is why we have such a strict policy about members fulfilling their required Work Day as scheduled.
Lastly, should you find yourself in a position where you cannot attend your Work Day, we can offer the following suggestions:
Attempt to trade a Work Day with another member who is scheduled on a different day

Attempt to find someone who may do a 'Paid' Work Day. Social media seems to be the best route to find people willing to do this.

SCR is not involved in any arrangements made, including how much someone is asking to be paid or method of payment.

Also keep in mind, these Work Days can be 10 hours in length, and often require travel time and costs, so keep it fair.
As a very last resort, we occasionally have a list of people who have contacted us to tell us they are available to complete Work Days.

If we have any names of people available, we are happy to share that information and provide contact information.

DO NOT LEAVE IT TO THE LAST MINUTE TO FIND WORK DAY COVERAGE
Please do not hesitate to contact jmcalpine@steelcityriders.ca with any questions you may have regarding your Work Day. If you've never done one before it can be a bit intimidating, but with a little education and training, you will be ready to complete your day.
Watch for email communication that will come out the week before each event. The Worker Roster will be included on this email as well as any info you may need regarding time, location, what to bring, etc. There will also be a link to the Work Day Video tutorial. It is very important to watch the Work Day video in its entirety, even if you have watched it before.
We thank you all in advance for fulfilling your membership obligations and help to keep things running smoothly.
Jason and the SCR board
SCR Decals For Sale
Please contact Zack at zmcintyre@steelcityriders.ca if you would like to purchase SCR Decals, approximate size is 20"x14", they are mirrored so there is one for each side of your trailer, cost is $25.00.